ICE 2017 - Racing and Sports Summary Screens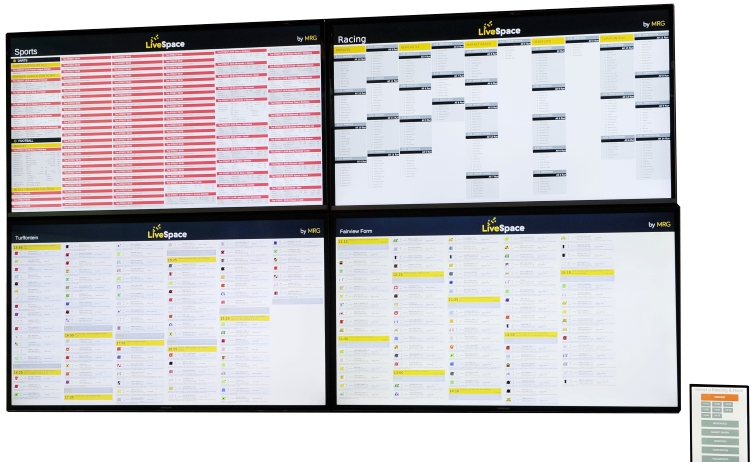 One of the featured products on the MRG stand at ICE 2017 was the racing and sports betting summary screen designed for betting operators to display a variety of events taking place on the day of the event. The markets for football, basketball, golf or any other event can be displayed. Equally, a betting operator might choose to show information for the days featured horse and greyhound races. There is no limit to the number of screens that could be used. Additional marketing and promotions can also be displayed to help encourage more betting activity.
LiveSpace digital signage provides the core functionality behind the system. The Racing and Sports Summary screen comprises two screens and a touchscreen tablet which is used by customers to navigate to their chosen event. In the picture, the day's summaries for sports and racing are on the screens mounted above. Customers make their selections via the tablet device seen next to the screens. This additional information is then displayed on the screens below the summary screen, helping them to examine the information in greater detail and come to a decision.
The system can be hosted locally or in the cloud but is managed centrally with a variety of different data feeds used to add live price information and real-time detail such as non-runners and results.
Written as web pages, HTML templates are easy to create and maintain. It also means that additional control interfaces are easy to generate, when required. The use of data objects are another feature of LiveSpace. These are key pieces of information displayed on the page. Where this information is shared with other pages the same data object reference is used. The advantages of this means that the transmission of data across the network is kept to a minimum as only changes are transmitted to affected pages.
LiveSpace is designed for screens with any resolution up to 4k. Higher resolution screens enable more information to be displayed with clearer, easier to read text. The Summary screen is a great way to display more betting markets and increase the number of opportunities a customer has to make a wager. Adding screens with additional information that customers find easy to use increases the dwell time in the shop and contributes to the overall experience.
We received lots of visitors on the stand from a wide variety of companies expressing interest in the concept. We have plans to use the same concept outside of the betting industry with clients in hospitality, retail and other areas where the end user chooses to browse and explore their options.