Clear communication is simply better with digital screens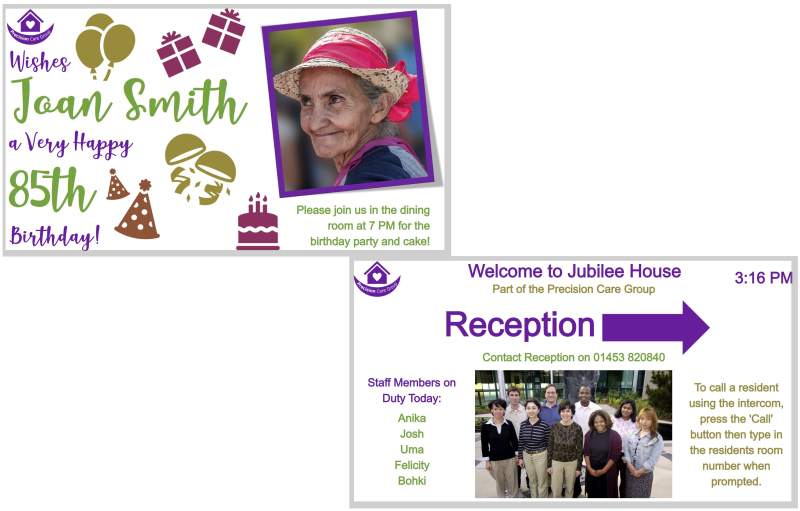 We've all become more effective with the way we message. Consider how many apps we use on our smart phones. We can message family, friends and groups in lots of different ways when we want to. We do things now that we couldn't do just a couple of years ago. And when we want a better, more personal experience we use an app to make a video call.
Today's digital signage systems provide easy ways to communicate in just the same way. You'll immediately recognise how to use digital signage, because so much of what you do is already familiar to you.
Sadly, it's a very difficult time for us all during this Coronavirus outbreak but the health sector, and especially care and residential homes have no choice but to remain operational. Digital screens are playing a unique role communicating safety and preventative measures, displaying key content to help keep front line employees and residents safe during the COVID-19 crisis.
Digital signage is the best way for care and residential homes to be certain the information they want to share is available to different groups. If you worry about emails being left unread, tatty messages on noticeboards going out of date, or printed notices being ignored, then digital signage is a viable alternative. And, just like those mobile apps, the system is straightforward and simple to use.
Placing information on a screen only takes a minute and quickly releases staff back to their normal duties. So, editing a work rota to inform everyone who is working each day is useful, especially if staff absence is unpredictable at present. And to keep spirits raised our clients use their screens to display uplifting and soothing messages for everyone to enjoy.
Using digital screens is the fastest way to reach the people you want to message at just the right time. Create messages for different viewers, a resident, visitor or member of staff. And everything can be scheduled in advance to automatically display when you want it to be seen. You can be confident your messages are being seen.
To make it even easier we have a set of standard templates to get you started. We'll help you to put in the information you need, so the first time you turn on the screen it has just what you want, right from the outset.
At MRG Systems, we even offer our clients a free video for their screens, which reinforces key messages about Coronavirus avoidance.
Get in touch if you'd like to see examples of the sort of information others are using their screens to display.
Call 01453 820840 or email hello@mrgsystems.co.uk and we'll happily answer your questions.