What we learned at YouTube Space, London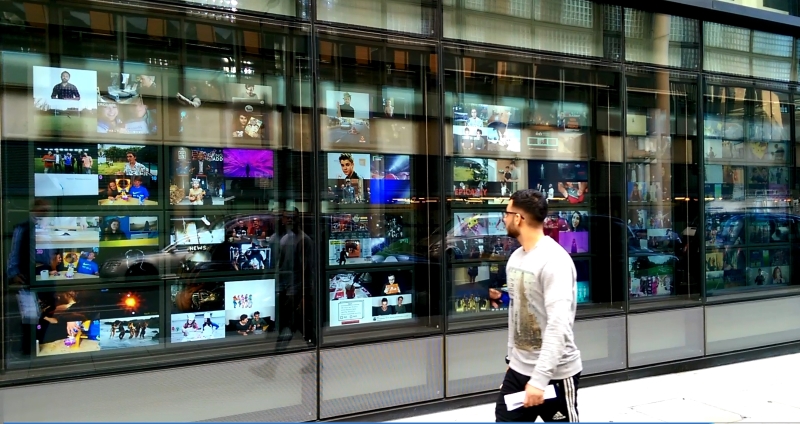 "If you haven't walked down the Pancras Road, London in the last year or so, we'd like to invite you to do so!" Ian Hunter from MRG System.
With LiveSpace digital signage, the YouTube Space window displays exemplify the work MRG does for clients who wish to showcase their products at their best.
The primary purpose of the window displays is to attract attention to the building from the street by sharing some of the content available on YouTube.
Ian continued, "The project comprised two separate elements that would enable YouTube Space to showcase their new service. The windows facing out to the street have an array of thirty two sunlight readable screens playing a patchwork of various YouTube videos.
Within the building a video wall comprising four 75" screens display a mix of content from their top contributors plus promotional videos describing how YouTubers can benefit from professional advice and how to get the best out of the Kings Cross facilities."
"So, what has that to do with screens in your shops? Ian asks.
"MRG have developed two of the most dynamic screen management systems available to bricks and mortar retailers and betting operators. The experience, expertise and new ideas we've acquired from a wide-range of clients is reinvested into every new client's solution.
For more complex operations, BIDS provides a fully featured system designed to handle the additional complexities of live racing.
Those who don't need to manage complex and multiple switching of events throughout the day use our LiveSpace digital signage solution. The system is fully automated to display content for a variety of clients, from major retailers, through to sports betting providers who need to show live prices in real-time.
LiveSpace is designed to be easily extensible by providing an API to connect new components without changing the core software. LiveSpace allows a video wall to be broken up in to separate display areas which can be sized and positioned as required. The content for each display area is then handled individually by LiveSpace and can be scheduled to allow changes in the video wall layout to be made at any time.
Touchscreen solutions, digital poster advertising, point of sales and more are managed from head office. Where individual units are allowed to choose what is displayed, the localisation feature is made available by head office. We also use the concept of regionalisation to ensure that the content on display, matches the appetite of the audience."