A beginner's guide to LiveSpace digital signage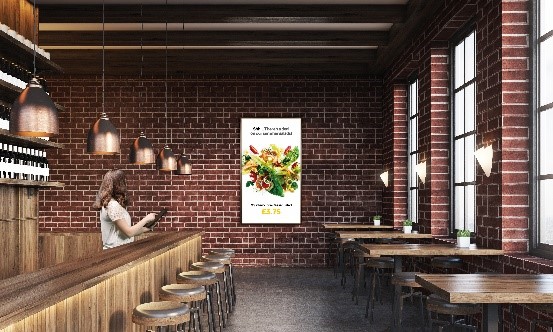 This is a brief guide for anyone considering digital signage. Fortunately, it's easier now than ever before. Not only have the prices of screens and systems tumbled over the past few years, but the quality of the software driving these systems has grown to provide a better, more coherent user experience.
Digital signage saves printing time and costs and it ends the delays that frequently occur when others you rely on, fail to hang posters on the right day, at the right time. Anyone who uses digital signage is able to respond quickly to a competitor's offer.
Normally cloud based, LiveSpace is managed centrally and is the fastest way to broadcast content to screens anywhere under your management.
LiveSpace digital signage helps our clients remain competitive. A mix of good quality images, animations and video provide audiences with the eye-catching content that generates higher footfall and increased sales. For more dynamic displays LiveSpace will add live price changes, your social media feeds, live traffic, weather information and much more; you create the mood fit for your audience.
If speed to screen is important, then LiveSpace does it better than most. LiveSpace will accept and store large quantities of data. Once a page has been transmitted to a screen it will then only send the changes to the screen in future. If the same data is shared across different templates then the system will update all of them at the same time. This keeps data volumes to an absolute minimum because the rest of the page is not affected, and so eliminates the need to re-send or refresh the full page.
LiveSpace manages the display of all sorts of information efficiently and accurately. Whether that is pricing information, a promotions description or the percentage value of a discount, they are all handled in the same way.
Why is this important?
It means that when you plan your campaigns, you can address large numbers of screens simultaneously by scheduling the changes in advance, with absolutely minimal effect on your network. It also means that if you react to a competitor's offer, the instant you commit the change to your chosen screens, it will be displayed. These real-time changes ensure your screens remain accurate at all times and your competitors will be amazed at the speed of your response.
How are images, video and other collateral handled?
These are your assets, you upload them when and as you require them. They remain available to use for as long as you choose to keep them on the system. We've streamlined the workflow by making the upload of assets and the creation of pages and playlists a single fluid action.
There are three additional features which ensure the screens are assigned with the correct content and will enable you to derive better revenues. They help to streamline processes, whilst recognising different tastes and attitudes within your target audience. These are the concepts of Grouping, Regionalisation and Localisation.
Grouping is where screens are assigned a function, each showing the same content. A department store might assign the screens at their entrances or in the windows of their stores to display a playlist of current hottest promotions. A bank might display content targeting business customers in their dedicated area in every branch.
Regionalisation is the broadcast of different content to customers in different parts of a territory, based on the tastes and desires of the audience you wish to attract. If the bestselling fashions for a summer's day is different for London consumers compared to Edinburgh consumers, then head office will easily display content designed to appeal to those different tastes.
Localisation is another centrally managed feature, but this time it is the local manager who chooses the promotion they know will work best in their unit. Head office create and manage the list of promotions. A screen at each location is designated to display the offers and customers quickly discover where to look when they arrive.
For example, the fast-food shop manager might display a promotion which helps to increase sales of a higher margin meal. Alternatively, a coffee shop manager might choose to move older stock on more quickly to make room for a new product.
LiveSpace digital signage has been adopted by a wide variety of different clients, some of them household names. Designed to be flexible and easy to manage, it brings clarity and speed to your screens for better results and an enhanced customer experience. And because we manage the cloud server, upgrades are at a time that minimises any potential impact on you, our client.