Digital signage for residential and care homes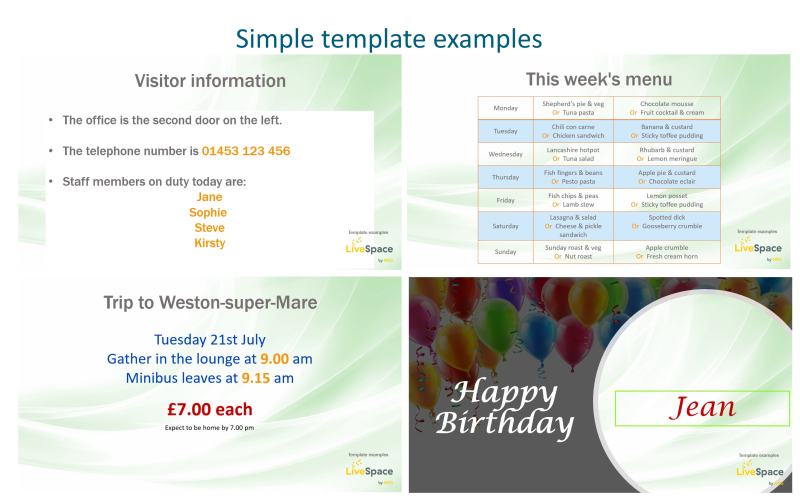 If you are caring for our most vulnerable, we know you are under extreme pressure right now. You are battling an invisible enemy and doing all you can to take control. Thankfully, there is one aspect of running residential and care homes which can be easily controlled: communication.
Wherever they work, people need to communicate clearly with their customers and with their own team. Whilst you'll be familiar with screens in shops and restaurants, it might surprise you just how widely used digital signage has now become. From supermarket to surgery, and from call centre to hotel resort, digital signage is the most effective way to communicate with a broad audience.
In ordinary times, when we meet new clients in the early stages of planning their own digital signage, we discuss what they want to do with their screens. Those ideas and intentions about the information they will communicate form the first steps to creating their system. And we either provide help for them to achieve those aims, or we manage the screens on their behalf.
We've clearly heard the impact of COVID-19 on managing residential and care homes. The pandemic has turned your well-established freedoms and routines on their head. Suddenly, your clients need to be even more actively managed and better protected from outside interactions and the environment around them.
We've had a recent example from a client who never thought they would use their system the way they do now.
As a result of the current crisis they now share clear messages to vulnerable residents about how best to avoid infection. These messages are displayed instantly so that they are fully aware at the earliest opportunity.
Before the Coronavirus, what clients wanted was for the screens to welcome new visitors and provide basic contact information when they need to get in touch with a member of staff. A description of where they can find the office and the names on that day's staff rota are also popular pieces of information to share. With LiveSpace digital signage It's easy to build and schedule these in advance to show the right information on the correct days.
It's the residents who benefit most from the system. Displaying the current and next week's events helps them to plan when family come to visit or, take them out. Visiting days and contact details for professional visits from people like the podiatrist and the hairdresser can be displayed. The weekly excursions and trips schedule can be displayed with full information about the arrangements.
And of course, it's a lovely gesture to share the good times by celebrating birthdays and anniversaries of residents or publish fliers for local events taking place in the area, like the theatre and festivals that some still enjoy. And when everyone has had a lovely day, why not add photos to the system so that we can all enjoy seeing them?
LiveSpace is a versatile, easy to use and surprisingly affordable digital signage solution. It's a better way to communicate in a memorable and eye-catching way for everyone.
If you would like to know more, we'd love to hear from you.
Please contact us at hello@mrgsystems.co.uk or call 01453 820840 and we'll be delighted to discuss LiveSpace in more detail with you.